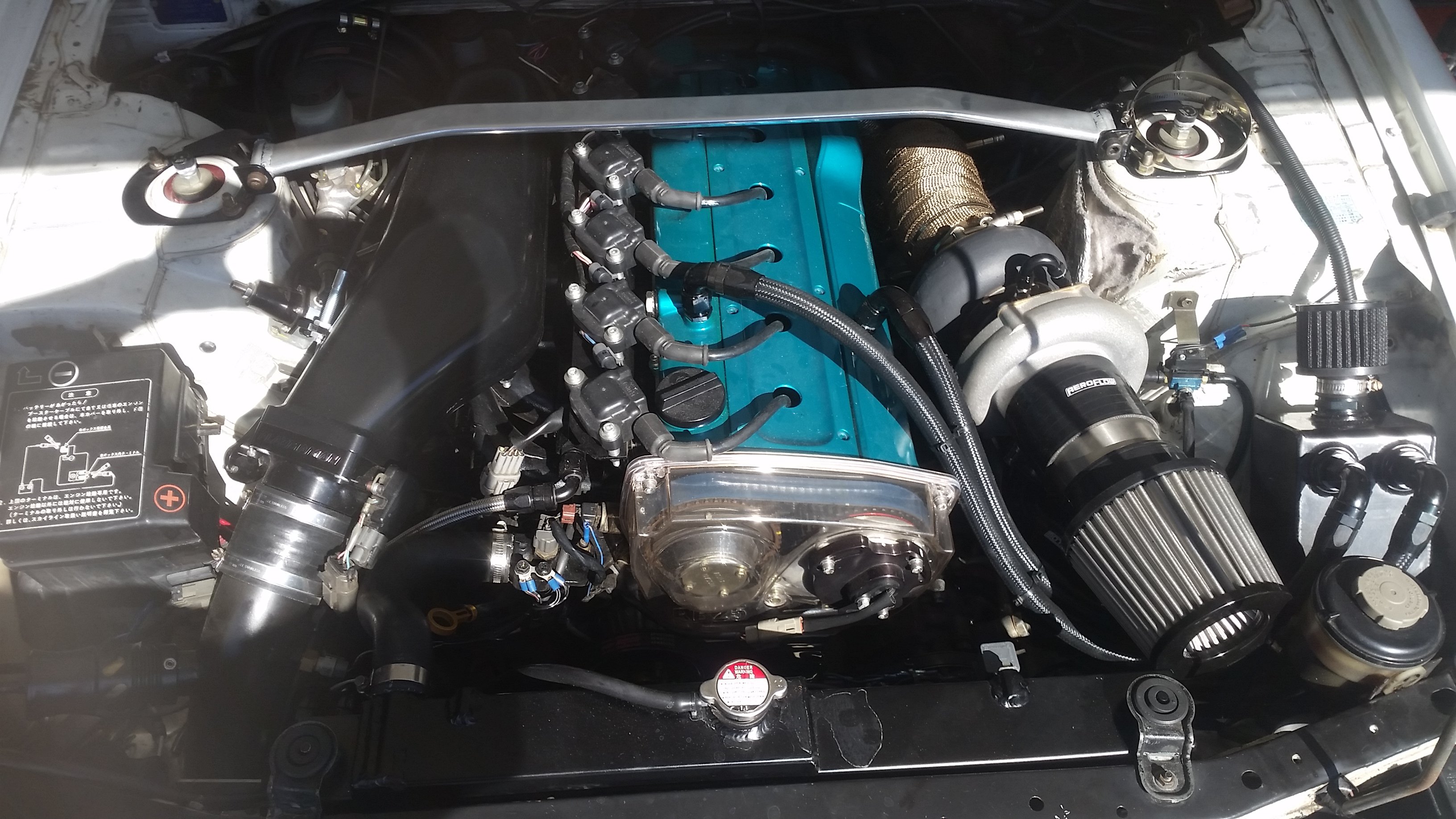 Content Count

17

Joined

Last visited

Feedback

0%
Community Reputation
4
Neutral
About r33ryan
Rank

Rank: RB20DE


Birthday

06/08/1995
Profile Information
Gender
Location

Sunshine Coast, Queensland

Interests
Yeah going to upgrade to 21psi springs in twin 45s. Ill also change the gate pressure source from the turbo to the intake manifold before I put it back on the dyno. Found the pipe in the white circle that comes off the idle control block that wasnt blocked off either. Blocking pipe must have blown off so it would be leaking boost out of it. Fixed it up now so once ive put the springs in and finalized a few other bits and pieces I'll gey it back on the dyno.

Pulled the duty cycle up today. What do you guys reckon?

Still retains vct yes. I'm just going off what I was told, I'm not a mechanic and only have a pretty basic knowledge. I'm interested to hear what you all have to say and if there are a few things I can check. I've seen your build Simon so I did find it weird for the compressor to have run out. Obviously different builds here but still for it to be that different. I was hoping to screw a bit more into it. I'm not entirely sure on the pre-intercooler temps sorry, just what I was told. I didn't before you mentioned it, just had a look. Unsure how mine is set. Twin 45mm hypergates with 14psi springs. Pretty sure they are 7psi inner and 7psi outter?

Hi all, Back again and had the car on the dyno on Monday with the only change being the 600x300x100 cooling pro intercooler. Compressor seemed to run out of puff at 26psi and tapered off to 25psi by the end of the run which was a bit disappointing. Saw a bit of wheel spin on this run as you can see at the top. For a $260 intercooler it made a pretty good difference. Car is pretty incredible to drive, it has awesome low end torque and it quite responsive. Keen to test it out at roll racing in a couple of weeks. -Ryan

+1 for Brad @ Boost Automotive Launceston. When I was living in Tasmania, I used him to tune my car a few times. He is great at what he does and is very knowledgeable.

Hey guys, a bit of a update to my previous post. So i went with the 6062. Mods as follows: Head: S1 rb25det Camtech 264 in 268 ex 9.0mm lift Supertech valve springs with titanium retainers 1.2mm cometic headgasket Arp 2000 head studs Block: Cp forged pistons 9.0:1 compression ratio (Apparently shaved block & head for finally cr 9.3:1) Tomei forged conrods with arp road bolts Acl race series bearings Acl main studs Tomei oil restrictors Jpc billet high volume oil pump gears Nitto crank collar with balanced and polished crank Ross balancer Intake & fuel: Plazmaman top hat Plazmaman 72mm throttle body Ebay 600x300x76 intercooler Bosch 1650cc injectors -8 braid fuel line Walbro lift pump 2L surge tank Twin 044 feeds Haltech flex fuel sensor in return Ignition: LSA coils, custom leads Hi octane trigger kit Exhaust: T4 6boost twin scroll Twin 45mm hypergates, plumbed into exhaust Precision 6062 t4 .84 twin scroll Full 4inch exhaust. Turbosmart oil pressure regulator Ecu: Haltech platinum pro Had to stop at 25psi, ebay intercooler wasnt keeping up at all. Was jumping from 45 to 65degrees during a run. Purchased a cooling pro 600x300x100 cooler as recommended by my tuner (Matt Ashley @ Diversion Garage Brisbane. (Would highly recommend)). See how we go once the new cooler is on but im hoping we will be able to wind it up a bit more. See where we end up. So far I can say it seems to be an awesome street setup. A lot more respsonsive compared to my old gtx30 setup. I'll keep you guys updated, should be back on the dyno in the next fortnight. Cheers, Ryan.

Has anyone ran a 6062 on a rb25 yet and got some solid numbers? Going to change my current single scroll gen 1 gtx30 to a twin scroll 6062 twin 45mms, maybe depending on results. Wanting to crack the high 400kw maybe even early 500s while keeping respectable response for the street, sees a few track days. Roll racing, power cruise etc.

Gday all 1993 r33 gtst rb25det Tomei poncams 256s 8.5mm lift supertech valve springs w/ matching retainers forged short block with cp pistons and tomei rods. Acl race bearings. Arp bolts all round. Forward facing plenum 90mm throttle body Fmic Discotune steampipe manifold Gtx3076r .82 3 inch straight through exhaust 1400cc injectors walbro e85 lift pump, surge tank with 044 Haltech platinum pro plugin Yellow jacket coilpacks heaps of other good fruit too. This is just the base tune which made 295rwkw at 17.4psi, caltex 98. Coilpacks were holding it back on running more boost as they are on their way out, so i am converting to ls1 coils before tuning to e85. Full fuel flex system in the car ready to go. Will update when the e85 tune happens. Cheers

Pistons, rods, bearings sold. Only have the crank left. $450 ono Cheers.

Hi mate, Are you still after pistons and rods?

Are these still available for the above price?? Possible to get a shipping quote to 7015 in Tas? Cheers!

Sard 700cc top feed injectors x 6 Near new injectors, have done under 1000km Came out of a running r32 GTR rb26dett Flowed at 72% to make 321kw at the rear wheels New o rings on top. Was planning to use them in my rb25 but have larger injectors so I have no need for them anymore. Can have them cleaned and flow tested at the buyers cost. $400 Negotiable Looking for a quick sale if possible Located in Tasmania. Willing to ship at buyers expense. Feel free to contact Ryan on 0438368891

Hi all, first post for quite sometime. I have for sale a forged piston and rod kit with a reconditioned rb25det crank. Forged CP 86.5mm (20 thou over) 9:1 compression ratio pistons and rings. CP piston part number: SC7305 Con rods are Bridgeway rods. Great quality rods and quite pricey too I might add! Bridgeway Part number: 6-BR-019-02 Forged billet 4340, H Beam Pistons, con rods and rod bolts are together and balanced. Also have ACL race series bearings. Performance Rod bearings Designed for high rpm Part number: 6B2960H-STD Main bearings Part number: 7M2428H-STD I also have a reconditioned rb25det crank. Balanced, polished, crack tested, etc, etc. With an N1 crank collar. Reconditioning was performed by Tasmanian Engine Reconditioning (Tas Engine Reco) Still in the wrap from the shop! These are quality parts, brand new never been used. Was planning on forging the rb25det in my R33 but have bought one with a forged engine so I have no need for these anymore. Ball park figure is $1600. I know it seems like a lot but look the parts up yourself and youll see this price is quite reasonable, especially once you consider the reconditioning of the crank with the collar. LOCATION: HOBART, TAS. Willing to ship: Happy to ship interstate at the buyers cost. Not really looking for swaps at the minute as Im funding a new turbo set up on the rb25. Cheers guys, feel free to get back to me with any inquiries. Ill try to answer things to the best of my ability. Contact name:Ryan Mobile:0438368891 Email: rizzowabc@live.com.au More photos upon request if you really feel the need, ive just taken the essentials to show you the parts.

Cheers for the help everyone. Thanks mat for the info on when the 044 maxes out. Did anyone know what type of flange the stock exhauat manifold is? Like where the turbo bolts on? Ive found a turbo but i dont know whether it will bolt straight on or not. A gt3076r. T4 four bolt apparently.

Cheers for all of the replies guys. Had a bit of a look through the dyno thread. I reckon I will be running bp ultimate or shell vortex for the dyno, but I usually run 98 anyway. I had a thought about running a gt3076r or hks 3037. Both pretty much the same i'm sure, both turbos are good for around or a tad over 500HP which isn't too bad at all. I'll most likely go with what most of you said and not limit myself too much on the injectors so I might go larger, something like the 740cc injectors. Just so I'm not maxing out the 550's. Also I reckon I will be going an 044 external with a surge tank rather than maixing out the 040 intank. From what I could find, 040's are good for 250-270kw which is what I'm after, but a 044 might benefit me in the long run if I decide to keep going up. Cheers Jim for reassurance of buying second hand, it was an idea in the back of my mind but I just wasn't 100% sure on whether I really should or not. I've found a gt3076r for $1000 so I might possibly look into that.